Hopefully you have your background block completed and are now ready to begin appliqueing the design.
This post will cover the applique of the vase, flower stems, and the bottom flower petals.
My quilt guild's friendship group met at my house last week to work on our blocks together. Check out their work below. I was excited to how each of the ladies made the design their own. I can't wait to see the finished projects.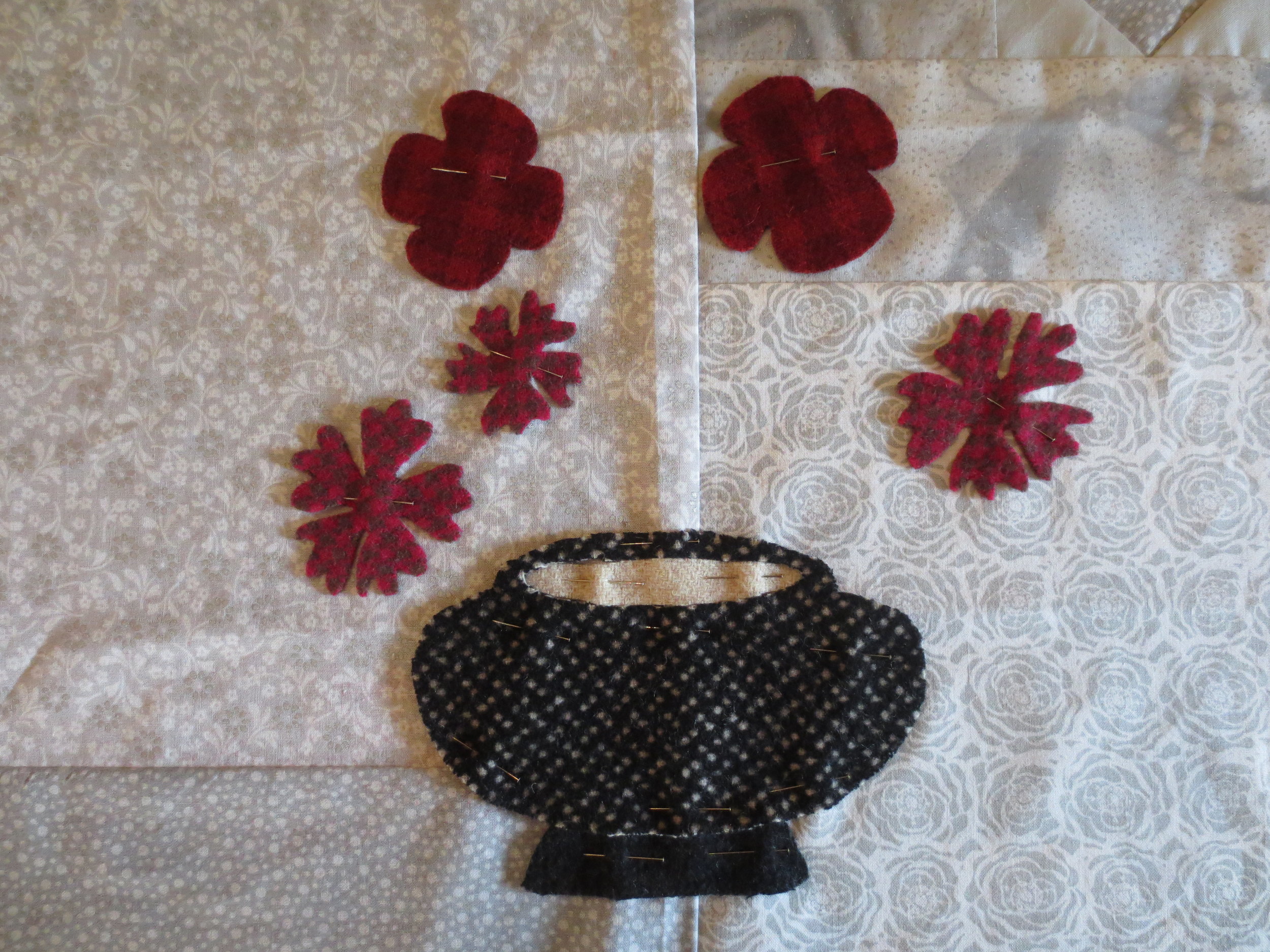 You will need:
Lightbox (This is not a requirement, but it's helpful for laying out the design when using a full size layout. You will need to increase the layout from last week's post to 125% to make it full size.)
Chalk pencil with light and dark chalk
Small pins
4mm ribbon cut into 3 1/2" & 4" lengths (flowers A & B)
1/4" ribbon cut into 3", 4", & 6 1/2" (flowers C, D & E)
Steam iron
Chenille needles, sizes #22 (perle cotton, size 8) & #24 (perle cotton, size 12)
Perle cotton, size 12in your choice of colors (see previous post).
Perle cotton, size 8 (vase handles)
Instructions - Use one strand of thread unless otherwise noted.
Lay your block, right side up with the economy patch in the upper right hand corner. If you are using a lightbox, lay your full size layout on top of the lightbox, then center the block on top of it.
Layout vase body, base and interior, flower stems, and the flower petals A-E. The bottom of the vase is about 3 3/4" from the bottom of the block. The vase interior should fit in the opening of the vase with no overlap. The flower stems should be tucked under the bottom lip of the vase opening and under each of the flowers
Pin stems in place.
Remove the flower petals.
Fuse the vase body, base & interior using steam.
Whip stitch stems.
4. Whip stitch vase body, base & interior.
5. Use a chalk pencil to draw the bottom lip of the vase. Back stitch over the line using a contrasting colored thread.
6. Draw the vase handles. Use perle cotton, size 8 to stitch a threaded backstitch over the line.
7. Replace the bottom flower petals of flowers A-E.
8. Position leaves 1-4 on stems.
9. Fuse everything using steam.
10. Whip stitch leaves and flowers.
Happy Stitching!